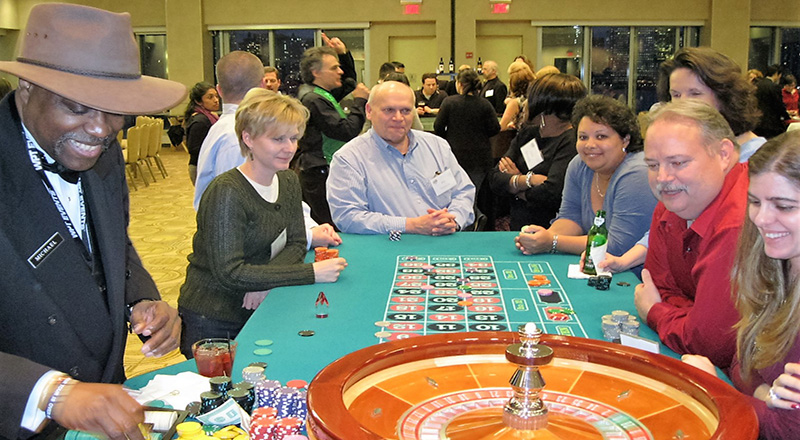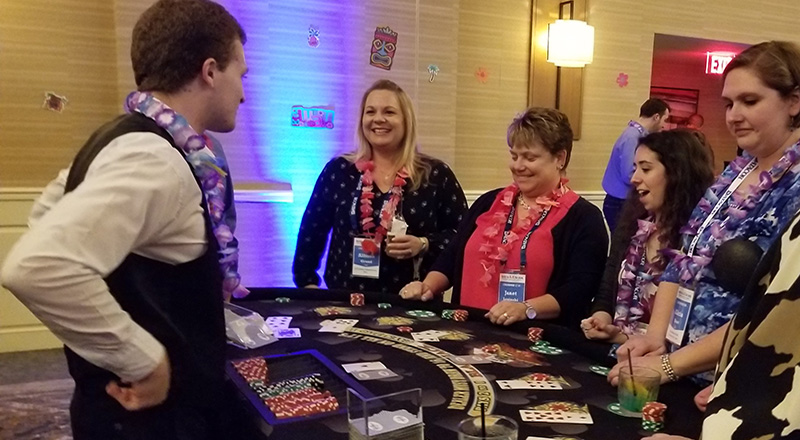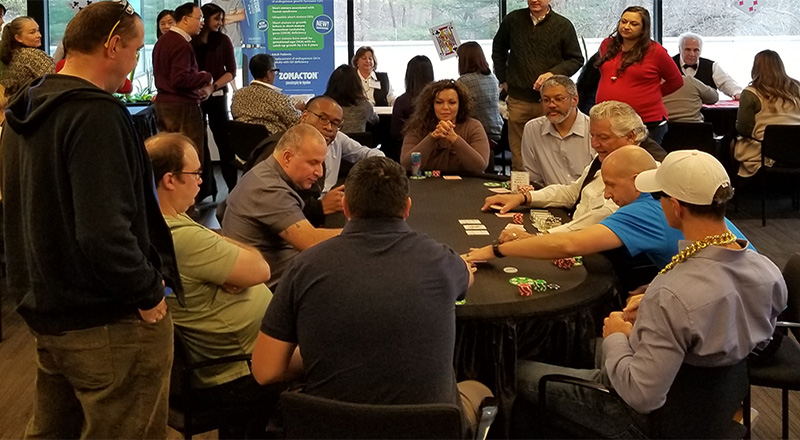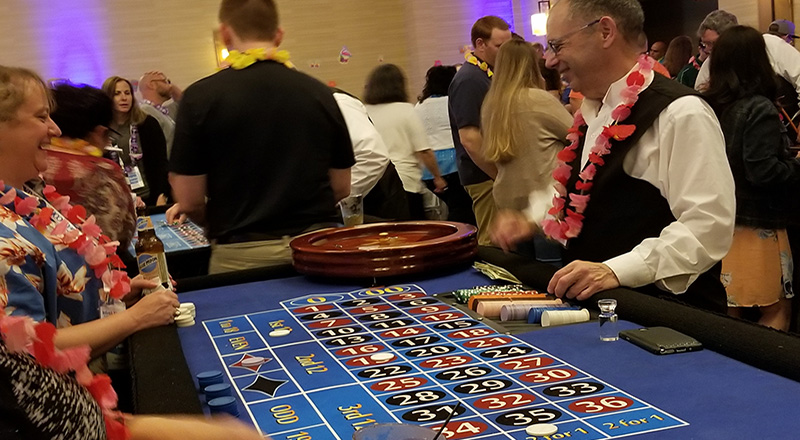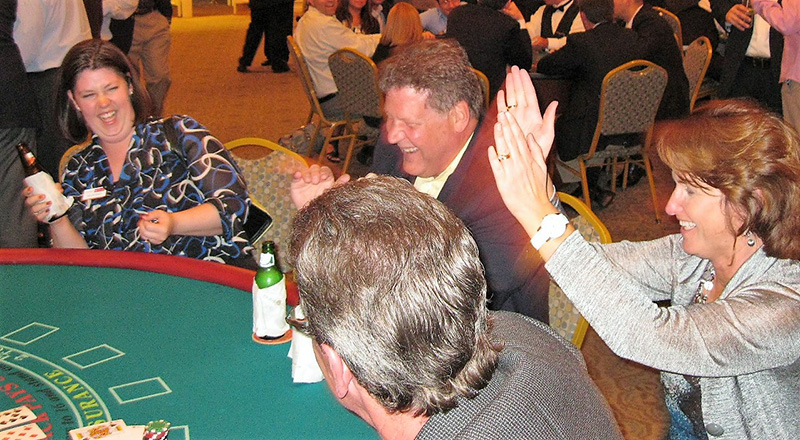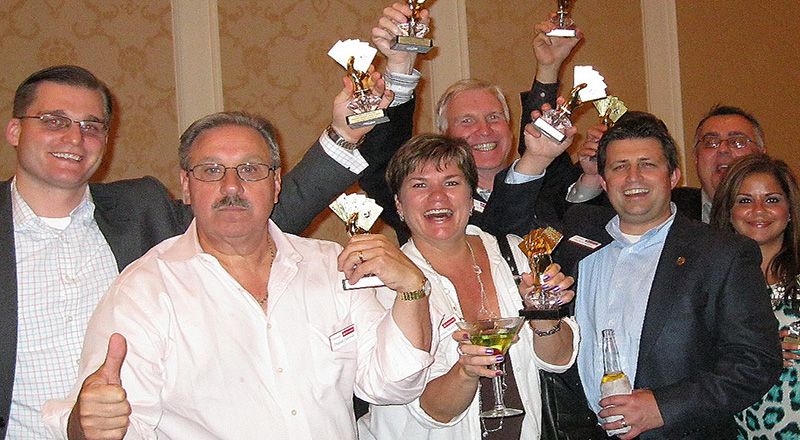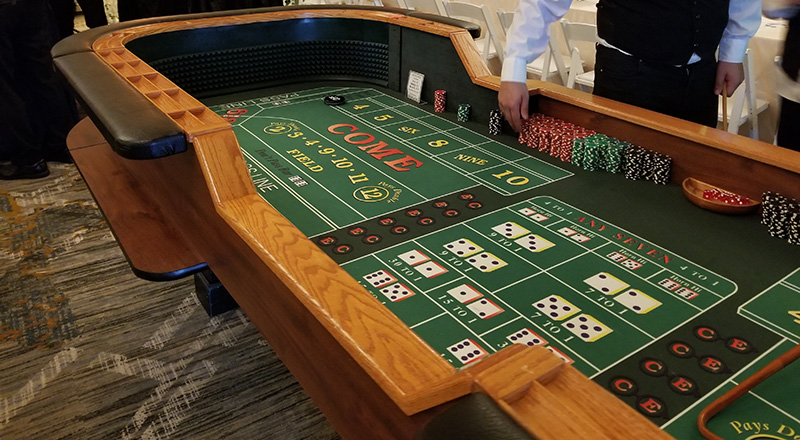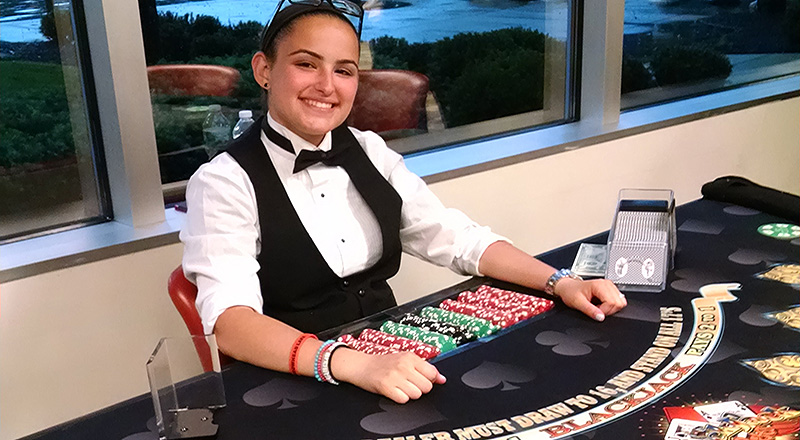 Everybody loves the excitement of a Casino. Try your hand at one of our Casino Quality Gaming Tables, staffed by Professional Dealers. Don't know how to play? No problem, our  knowledgeable and friendly Dealers will teach you how!

Not into Games of Chance? No Problem, We can add a Trivia Station Table or a Name That Tune Station with Music from TV, Movies, Pop and Rock where you can win money (Funny Money, that is) and some cool prizes.
Spice things up and make it a Theme Casino, Western, 1920's, Retro Vegas, or add Show Girls, Magicians, Lighting, a Walk Around Mystery, Sound and Decor, the options are limitless!
Perfect for Corporate Events, Private Parties, Clubs and Fundraisers.
Available Tables Include:
Blackjack: A very popular casino game that everyone knows how to play. The goal is to get the total of your cards as close to 21 without "busting" or going over while getting closer than the dealer's total.
Craps: Up to sixteen Players can enjoy this exciting game. (Depending on size chosen) We have 6, 10 and 12 foot tables available, in felt and Beautiful Oak wood. 
Roulette: An easy game that involves a  wheel containing thirty-six numbers, evenly divided between red and black, plus 0 and 00. Bet individual numbers (pays 35-1), or groups of two (17-1), three (11-1), four (8-1), five (6-1), six (5-1), twelve (2-1), or eighteen (1-1). Great fun, with each Player having his or her own color of chips to help keep the betting straight
Texas Hold'em: The biggest of all poker games a favorite at the World Series of Poker each year. Players each get two cards down, and then play five common cards in the middle of the table. This game involves highly structured rules for antes, betting, and raises
Carribean Stud: The main objective of Caribbean Stud Poker is to make the best possible poker hand out of five cards. If you feel that your hand is higher than the Dealer's, you will make an additional bet. If your hand is higher, you win.
Let It Ride:  Each Player puts up three bets of identical size and is dealt three cards; two more cards are dealt face-down in front of the Dealer. After examining his three cards, the Player may elect to have one bet returned or to "let it ride."
Money Wheel:  48-60-inch wheel available. Place a bet on the bill of your choice  and if it comes up you win your bet, times the amount of the bill. For example, place a $100 bet on the $20 bill, and if the wheel stops on the $20 bill, you win $2,000!! (your $100 x 20)
Trivia Table:  Not a Gambler? No problem, join us at our popular Trivia Table and try your luck answering a wide variety of Trivia, TV, Movies, Sports, Current Affairs. Pop Culture and more!
 

Also available:

Slot Machines and Big Screen Horse Racing

What ever you choose..no worries, it's a sure bet!